035. medan vi andra chillat och fiskat, har en intressant debatt dragit igång på Facebook.
Vi har ju pratat en del om musikartisters ersättning för sitt arbete, och att man alltid ska skriva vem som tagit ett kort man publicerar. Detta är samma fast tvärtom, typ…
Bandet Garbage planerar att ge ut en bok som summerar deras 20 år långa karriär. Fotografen Pat pope var den som tog deras första pressbilder och får därför ett mail från folket bakom bandet. Det resulterar först i denna status på Pat popes Facebooksida…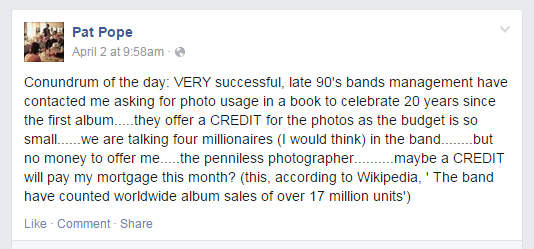 Vidare postar Pat Pope ett öppet brev till bandet på sin FBsida:
AN OPEN LETTER TO GARBAGE

Dear Shirley, Butch, Duke and Steve

I don't know if you will remember me, my name's Pat Pope and across a few years in the nineties I worked for you as a photographer. That's one of my photos of you accompanying this letter. I worked pretty hard on that photo – actually, throughout my time as a photographer I hope I've always worked hard to make all the artists I've had the opportunity to shoot look as good as they can.

Today I received an email from your management company Big Picture Music Co. It's a very nice email, and in it they announce that you're working on a book about the band which you plan to self-release next year. The email says that you really like some of the photos I took of you and would like to use them in your book. It also says that in return for the use of my photos you will give me a "proper credit" but that given it is planned to be a self release the budget is "financially limited", by which your management company mean "we're not going to pay you". So I wanted to ask you a couple of questions, and I wanted to do it publicly because I think it's important that people know what your answer is. I don't expect as many people will see this Open Letter as Shirley's recent message to Kanye West, but I think it's important we know where you, as artists, stand.

Q1: I'm a firm believer that musicians and artists deserve to be paid for their work. I'll sign any petition that's out there supporting that concept, and even when I choose to stream rather than buy, I'm one of the fans of your band that will pay for a premium service because I think you should be paid. That's my point of view. Is it yours? When you think about artists being paid, does that include photographers? Do you think "content providers", whatever the hell that means, deserve to be paid for their work, or is that a special category for musicians? If I want to release a music album, can I use your music in it if I give you a "proper credit"?

Q2: If you're putting together a book, presumably someone at your management company or somebody in the band has written a budget. And if there's a budget, somewhere in that budget, against the line for "use of photos" somebody has written "no need to pay, we'll just give them a proper credit and get them for free". Against all the other lines, for writing, for printing, for distribution, for retailing, for marketing, for the management company, for the band, for Uncle Tom Cobbley and all, somebody, somewhere, working for you, has written a number down because that's what it costs. But that same person has written zero for photos, because that content, in their opinion, they can get for free. Who is that person? As a band are you happy to be employing someone who thinks like that? Because it seems to me that the person who writes down "zero for photos" today is the same person who will write down "zero for music" tomorrow because they don't respect the "content providers".

By writing this open letter, I'm obviously committing professional suicide when it comes to ever working with you again, and probably it won't do my reputation any good within the music industry to be seen as troublemaker. Obviously that worries me, but it worries me more that musicians and others are saying one thing publicly about the needs for artists to be paid for their work whilst privately people working for them are doing exactly the opposite. I'm not accusing you personally of being hypocrites, I don't know how involved you are in this process, but I'm letting you know it's happening and it's happening in your name.

So, very respectfully, …….no.

No, you don't have my permission to use my work for free. I'm proud of my work and I think it has a value. If you don't think it has any value, don't use it. I'm saying no to a budget that says you can take my work for free and make money out of it.

Thanks, and still a fan of the band

Pat Pope
www.patpope.com
PS: Just so you know, this is actually an improvement on the management of your "Absolute Garbage" album where the record company just used my work without even asking. I only found this out when I went into a shop and bought a copy, which, when you think about it, has a certain irony.

Källa:  https://www.facebook.com/patpope/posts/10153132085765568:0
Detta uppmärksammas naturligtvis och diskuteras förutom direkt på Pat Popes sida, även på olika musiksajter. Louder Than War, Huffington Post, Digital Spy etc.
Självklart svarade Garbage på Pat's öppna brev, med ett eget öppet brev bandets Facebooksida. I allt detta poppade ett Instagraminlägg som Garbage postade, eller rättare sagt postades av Garbage Instagram konto, för sex månader sedan. Och vad jag förstår så är det just Pat Pope som tagit denna bild…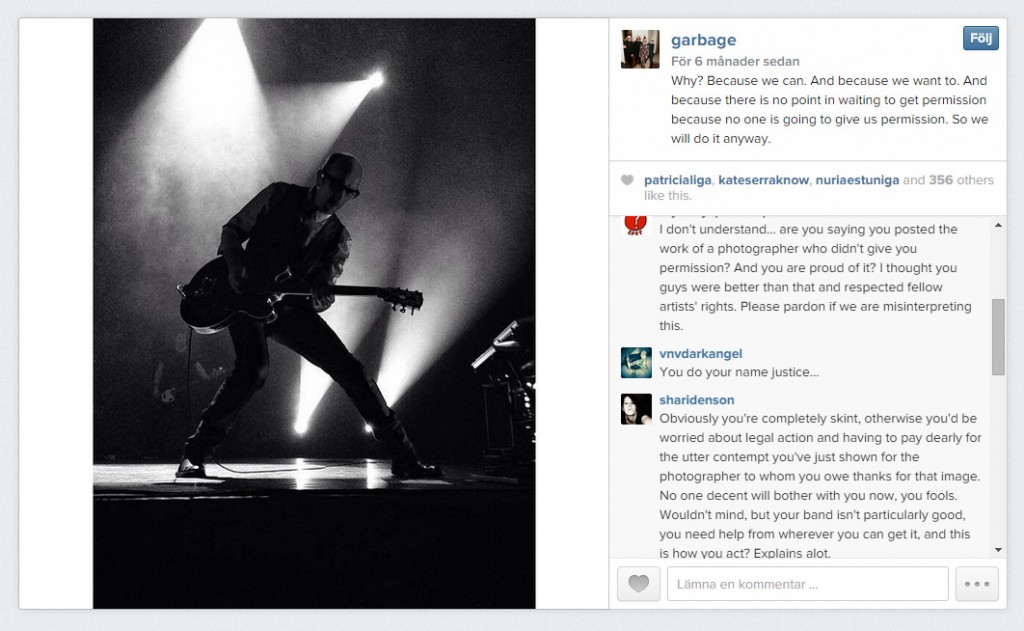 "Why? Because we can. And because we want to. And because there is no point in waiting to get permission because no one is going to give us permission. So we will do it anyway."
Ett inte helt oproblematiskt inlägg i sammanhanget…
Men som sagt, Garbage svarade på sin Facebooksida…
Dear Pat Pope
We were all deeply saddened to read your Facebook post in which you admonished us for approaching you to humbly request your kind permission to include one of your images in a book we are working on to celebrate our twentieth anniversary.
We regret that you interpreted our request so negatively.

HAVING ALREADY paid you in 1995 for the entire shoot from which these images were selected, we really didn't expect such a hostile reception to our enquiry.
We adore the photographs you took of us at such a special time in our career but it was never our intent to use the aforementioned images without your express permission.

As an independent band on our own label we are struggling to juggle the harsh realities of the modern music business with our desire as artists to produce music and accompanying content for our fans.

Our book is not intended as a profit generating venture but something beautiful to create and present directly to our fans as a celebration of our music and the image-makers who we have been lucky enough to work with over the span of a twenty-year career.
We very quickly and painfully learned that without a book publisher to help offset costs, we are not in the financial position to afford to pay for the usage of every photograph we were hoping to include in the book.

Before we scrapped the idea of producing the book entirely, we decided instead that we would take a leaf out of Amanda Palmer's book "The Power of Asking" and simply ask the photographers themselves whether they wanted to be included in our book or not. Any refusal of permission would be respectfully accepted and no further questions asked .

We were so grateful and delighted to learn that most of the photographers were happy for their images to be seen in conjunction with the telling of our story.
We would be entirely unable to produce a book at an affordable price for most of our fans without the generous consent of all these amazingly talented photographers and filmmakers. Historically, artists over the centuries have been known to help each other out in an effort to get their work seen and heard. We are proud and grateful to be part of this artist community.

Over the years we have happily compensated many photographers, filmmakers and other kinds of content providers for their work and will continue to do so in the future. We believe completely in the concept of the artist being compensated fairly whenever possible.

With that said, collectively as a band and as individuals, we have often provided our services and our music for no financial compensation in the spirit of artistic collaboration. Obviously we assess every request based on its own individual merits but we would never publicly admonish or begrudge a fellow artist for merely asking.

Regards
Shirley, Butch, Duke and Steve
"garbage"
Många reagerade så klart även på detta svar.
En fotograf säljer rättigheterna för specifika bilder för en specifik användning, som regleras i ett kontrakt mellan fotograf och användaren/kunden. Rättigheterna gäller endast för den användning som står beskrivit i kontraktet. Vill kunden använda bilderna till något annat ska ett nytt avtal tecknas som innefattar den nya användningen. Väldigt tydligt, och fullt rimligt. Exakt samma gäller musikaliska verk och säkert väldigt många andra saker.
Det jag tycker är intressant med allt detta, är att diskussionen kommer upp och att vi alla kan följa den i sociala medierna. I de kommentarer som finns på sidorna jag länkat till här ovan, lyfter fram väldigt många olika vinklingar på frågan, så jag ser ingen anledning att gör om det arbetet här. Ni som är intresserade kan surfa runt och bilda er en egen uppfattning i frågan.
Om det är någon som missat detta, så är Butch i Garbage just den Butch Vig som producerat Nirvanas album Nevermind, Foo Fighters plattor och som nu även samarbetar med den gode Ebbot Lundberg. Så det samarbetet hoppas jag kunna komma tillbaka till innan de här 100 dagarna av dagligt bloggande är över…
Här kan ni avnjuta skivan Pat Pope nämner i sitt PS.
Och bilden för dagen är givetvis en av bilderna allt detta handlar om…
nu går vi ut i solen…/Mvh Hasse
Sharing is Caring...