012. jag sitter just nu och lyssnar på Retrosonic Podcast som jag tycker mycket om. Sjukt mycket bra musik blandat med information och underbara anekdoter från de medverkande herrarna.
Steve from the Retro Man Blog and Adam from The Jetsonics are joined in the Pod by Rock Photographer Paul Slattery. Throughout the series we will play and discuss some hidden gems and rare nuggets from Punk Rock, New Wave, Power Pop, Soul, Psychedelia, Mod, Garage Rock, Ska and Reggae from house-hold names to new and unsigned bands.
We'll also be inviting in various Special Guests from the world of music – including Musicians, Bloggers, Photographers and Artists, to discuss their work and their influences.
Steve har som han nämner även en blogg, där han skriver flitigt om alla band han träffar och lyssnar på. Retro Man Blog
Welcome to the ramblings of a man who really should have grown out of listening to "that sort of music" a long, long time ago…A place to share thoughts and photographs on music and related paraphernalia.
En annan grymt bra podcast jag följer är Ice Cream Man Power Pop and More även här handlar det om helt fantastisk musik, blandat med Wayne's oerhört informativa mellansnack.
Power Pop, Mod, Surf, New Wave, 60's, Northern Soul and much, much more!"
Wayne har likt Steve en blogg, där han pushar för nya osignade band uppblandat med mer kända akter. Ice Cream Man Power Pop and More Blog
Music for discerning ladies and gentlemen in the form of Power pop, Mod, Sixties, New Wave, NorthernSoul and more.
Båda dessa herrar har jag lärt känna genom ett av de bästa banden som funnits, The Soundtrack of Our Lives, vilket uppenbart är en bra grund för lång vänskap.
Bilden för dagen, från mycket trevligt ögonblick från förra året…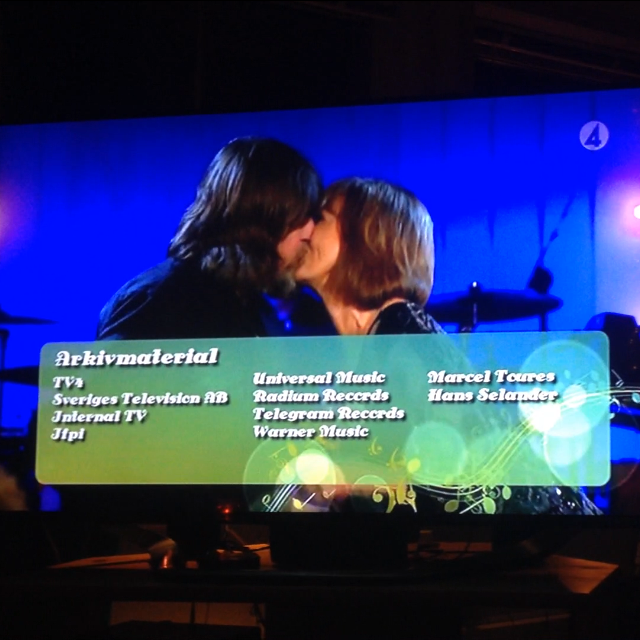 Ja inte att Ebbot fick sin Lill, utan att jag är med i eftertexten för mitt bidrag till "Ebbots dag" i "Så Mycket Bättre". Min TV-debut!
Kör i vind…/Mvh Hasse
Sharing is Caring...